Caution Parents… Please read this.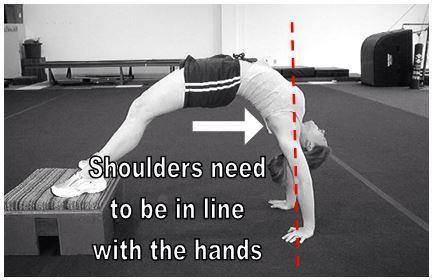 Beware of a coach or a gym who tells you that they can teach your child a back handspring in a month or two when your child has had no tumbling training. This time of year (right before cheerleading tryouts) gyms are flooded with calls from anxious parents wanting their child to get this skill quickly. What they don't understand is that a back handspring comes from building blocks leading up to this popular skill . If you skip bridges, backbends, and handstands, you are likely to fall on your head if you practice a back handspring. Or, at the very least, students will develop bad habits when it comes to technique. Poor technique leads to safety issues, overuse injuries, and inability to progress past the back handspring to perform more advanced skills down the road.
If your legs are not strong enough to propel your body properly during a jump, then you will not have enough power to complete your back handspring. We have found that a vertical leap of at least 10 inches is a fairly good indicator of enough lower body power.
If you do not have the flexibility to perform a proper bridge then your center of gravity will not be moving in the correct direction.
The "sit" technique must be correct, or the jump will be too high or too low.
Trying to learn a back handspring in a hurry by taking shortcuts is, at best, likely to lead to technique flaws, or, at worst, can be dangerous.
To wrap up…THERE ARE NO SAFE SHORTCUTS!
Enroll your child in a "building blocks" tumbling class so that they can enjoy tumbling without injury.
Call us for classes, clinics, and camp times. 478 454-3446